In this month's Some Thoughts:
Investor sentiment to hedge funds is at decade highs and we look at where allocations are going.
We focus on how three world class CEOs have teamed together and are taking advantage of the need-for-infrastructure thesis.
For us, the opportunity of buying historically undervalued commodity related assets is compelling. Jerome Powell "welcomes" inflation and is "not even thinking about thinking about raising rates" whilst the Fed's quantitative easing is on autopilot at $120 billion per month with no end in sight. We regularly talk about uranium and last month discussed titanium dioxide, but it is three months since Ocean Wall completed their second primary placing for Lithium Chile (LITH). LITH shares have doubled since and this month we give an update.
Post the Super league debacle we get the inside track on reform from an EPL CEO.
Ocean Wall is one of only two UK and European Investment Houses to be mandated on the recently launched £60m Series D for what3words.
2020 saw record issuance volumes in the convertible primary market and this month we examine further positive tailwinds.
Ocean Wall's Nicky Grant continues to explore food finance and agritech and this month she looks at investing alongside Oxford Science Innovations in herbicides.
Lastly, we have produced a thorough review of psychedelics which for long have been a niche sector of the pharmaceuticals industry but where investment opportunities can be found.
Investor sentiment – decade high
The Morgan Stanley Prime Brokerage 1Q21 Global Investor Survey published last week made very interesting reading. Investor sentiment remains near highs over the past decade. With regards to strategies, interest levels for Global Macro, Commodities, and Event Driven funds increased to recent highs, while interest for Credit and Quant Equity funds declined to multi-year lows. With SPACs in focus in early 2021, ~3/4 investors noted that they currently have exposure to SPACs, but interestingly, less than 20% of those with SPAC exposure plan to increase their allocations to SPACs in the next 6-12 months.
Another hot topic this year has been Cryptocurrencies, and when asked whether or not investors currently have any exposure to Crypto's in their portfolio, only 1/3 of investors surveyed responded that they do.
Focusing in on co-investments, over half of investors surveyed said they have previously made co-investments, with Private Equity Deals (~78%) and Single-Name Equities (~51%) being the most common asset classes where investors have made prior co-investments. Most investors who have made co-investments have done so through managers with whom they had a pre-existing relationship, though 20% of all investors surveyed said they have made co-investments with new managers who they did not have prior relationships with. With the vaccine rollout underway and global COVID-19 case counts declining, ~1/3 investors surveyed noted they have plans to meet with managers in person in the next 1-2 quarters, which compares to only ~17% who said they had near-term plans per our 3Q20 survey. Nearly 2/3 of investors surveyed, however, stated they would meet with managers if the managers came to them.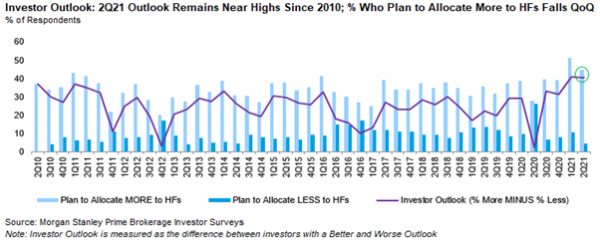 Communitas Capital Fund – Nothing beats experience
One of our longest standing relationships at Ocean Wall is with Communitas Capital. The firm's more recent investments, following once again the need-for-infrastructure thesis, are right at the intersection of decentralized finance (DeFi) and the currently exploding non-fungible token (NFT) craze.
The team at Communitas Capital has over 90 years of investment experience in the highest calibre environments. Doug Atkin who, amongst other roles, was CEO of Instinet, the first of the Fintech companies; Tom Glocer, former CEO of Reuters; and Duncan Niederauer, Goldman Sachs Partner and former CEO of the New York Stock Exchange.
Their Communitas Capital fund has grown organically, tapping into real understanding of the growth and changes in 'building market infrastructure'. They are about to launch their Fund II. Good resume in the recent Coindesk Review as they joined Coinbase's 2015 Series C.
Click here for the Coindesk Review
Future of Football – Insider thoughts
Talking to someone who runs a football club, he noted it was interesting that the Super League model didn't consider the need for talent development. In the US, closed leagues rely on college sport to grow future star players. Given attrition rates in these establishments, it seems unlikely that the academies of Super League clubs would be sufficient to generate all of tomorrow's star players.
What could be a positive outcome: a strictly enforced (not like UEFA's FFP) cap on salary (% of sales, not hard number per club) and a reform of the transfer market closer to the US model would benefit every club while still allowing for clubs to develop under strong management teams.
UEFA should also try to find a way to increase income from European competitions to plug the short-term cash needs to shore up over levered clubs. It is not about arranging more games; it is about creating more valuable "shows" involving top clubs (e.g. an exclusive Champion's League with 2 groups of 10 followed by semis and final and then a new tier 2 and tier 3 cup to cover the rest of the field currently qualifying for European football).
what3words – Series D launch
Ocean Wall is one of only two UK and European Investment Houses to be mandated on the recently launched £60m Series D and so Ocean Wall clients will have access to what will be a limited investment opportunity. With real momentum running in the adoption of their geolocation system it is likely to be another highly successful raise. The initial launch was due to be £120m but the Company has just completed an inter-Series convertible bond (supported by a small group of Family Offices) – which is currently at £55.7m but likely to rise to £60m – hence the reduction in the size of Series D.  The Series is currently timetabled to close end of May/June 2021.
Please let us know if you would like to have access to the management.
Lithium Chile – 3 month update
Ocean Wall and Lithium Chile have put together an update of the 3 months since their equity raising – reviewing the sector, country and company.  Lithium continues to be a hot topic and we still believe the company is undervalued at these levels.
Click here for the Lithium Chile update.
Convertibles
An asset class that has got our attention, and deservedly so, is convertible bonds.  In 2020, convertibles outperformed both global equities and global credit. The pandemic provided a somewhat perfect storm, allowing convertibles to show their defensive nature from the bond composition, whilst still giving the exposure to equity risk.  Companies rushed to raise capital to prop up struggling balance sheets or to take advantage of new and unexpected opportunities – and, in return, investors are seeing strong returns.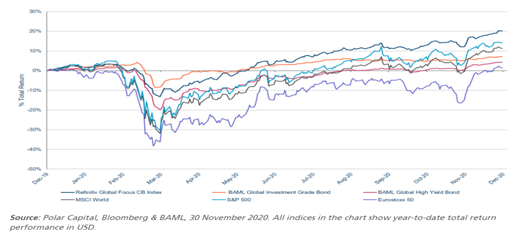 2020 saw record issuance volumes in the convertible primary market and this market is continuing to be the rising star of 2021, with the positive tailwinds; convertibles giving loss-avoidance protection, volatility (it is the only major asset class to have a positive correlation to volatility), increased investor demand from new investors, increased supply and diversity of issuance – all continuing to be key drivers.
Equity Linked Issuance (in Billions):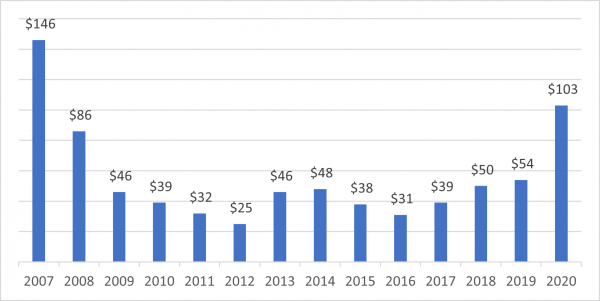 Refinitiv data showed that companies have issued $19.7bn worth of convertible bonds in the first seven weeks of 2021; with the US accounting for $8.6bn and China for $7.2bn.  Whilst interest rates are at historically record lows, companies are taking advantage of this to raise capital whilst investors are attracted because of the equity option in a rising equity market.
Herbicides – why they are not the 'dirty word' of farming
In the middle of the recent OSI Cleantech Presentation, Dr Virginia Corless – CEO of MoA Technology (formerly CCO, Novihum) announced that Herbicides are in fact the way forward for a sustainable farming future.  Not what I think of as 'clean' ….
Inarguably, one of the greatest challenges facing the farming community is herbicide resistant weeds which threaten food production.  Weeds impact crop yields by competing for light, water and nutrients and can reduce yields by 40-50%.
In 2019, a survey of herbicide resistant blackgrass in England revealed the true extent and severity of infestations.  Blackgrass is not only a problem across the whole cereal growing area of England but also France, Germany and other cereal producing countries in Europe.  Farmers try to combat this weed by crop rotation and delayed sowing but this – in itself – only slightly reduces the effect but also causes higher costs and lower yields.  This survey indicated that in 2014 blackgrass cost UK farmers £400m, but now the actual figure could be closer to £1bn.
To combat this there would need to be a significant rise in higher concentrations of herbicides, increased use of fertilizers, plus increased deforestation and erosion thus increasing the carbon footprint.  Herbicides have been 'vilified' and as a result it became unfashionable and unattractive to research or manufacture new herbicides or new modes of action.  The impact of that is, for 30 years, this market hasn't evolved or developed and so, if this continues without new and constantly evolving herbicides then food production will decrease and farming will become totally inefficient – not a sustainable future.
MoA Technology aims to change the herbicide game and help fix this broken and outdated $26bn industry.  They have created three new discovery platforms to find new modes of action and create new generations of safe herbicides; MoA GALAXY™ allows the simultaneous discovery of new herbicidally active chemicals and a prediction of the novelty of their modes of action.  MoA TARGET™ can identify the precise target protein associated with a new mode of action which is important for two reasons; (a) if the protein is found only in plants this predicts that the mode of action should be safe to humans and the environment, and (b) this knowledge also assists in the discovery of more effective analogues for this mode of action.  MoA SELECT™ can discover other herbicidal active molecules utilising knowledge from MoA GALAXY™ and MoA TARGET™.
MoA have strong IP and product pipeline with multiple leads, 5 patent families, 350,000+ compounds screened and their first field trials starting in 2021.  They are already collaborating with several large AgChem players on platforms and compounds and there are clear pathways for further collaboration, licencing and own development of products.  This is a very exciting company who are using technology to not only produce herbicides that will work now but also have the ability to predict and evolve in the future.
In conclusion, Dr Corless states "MoA can rapidly discover an unprecedented abundance of new biological modes of action – the critical element for breaking herbicide resistance – while generating better early data about e.g. safety, with which to choose which chemistries to develop.  Sustainably controlling weeds for decades to come will not be the result of a single "silver bullet" breakthrough, but instead will require an integrated long-term approach that combines new technologies and farming practices.  By bringing to market a series of safe, new mode of action herbicides that give farmers better options for lasting weed control, MoA will provide vitally important building blocks for a genuinely sustainable agricultural future."
Current investors include Oxford Science Innovations, IP Group, University of Oxford, Parkwalk Advisers, Bits x Bites and BGF.  Next raise: £20m+ closing Q4 2021/Q1 2022 to develop candidates, secure new modes of action, develop industry partnerships, further develop and broaden scope of discovery platforms.
Psychedelics/Compass Pathways
A niche sector of pharmaceuticals that is beginning to attract more attention and one that Ocean Wall has been tracking for nearly a year is psychedelics.
UK based Compass Pathways was the first pure play psychedelic company to be listed on NASDAQ in September 2020.  The IPO was scaled up from its original size and when it was priced at the above its range ($14-$16) at $17 – the price soared 70% on its first trading day. Currently sitting at about $39, it has continued to show good performance despite the pandemic. Compass Pathways is essentially a one drug company, but such is the importance of this treatment that investors are strongly backing this science. The regulatory tide is turning for psychedelics and, in 2020, Johnson & Johnson received approval for treating depressed and suicidal patients using a ketamine derivative.  A more significant change will come if Compass Pathways receives approval from the US Food and Drug Administration for its patented COMP360 drug (containing synthetic psilocybin – or colloquially – 'magic mushrooms') as this will truly transform the treatment of depression and mental health.  They are ahead of the game and already their Phase II trials are well under way.  With a worldwide market of over 320 million people – if it is proved that COMP360 can treat depression then it should deliver incredibly high sales with a 70% margin.
Last week has seen a rush of public news on psychedelic manufacturers: On 27th April 2021, Compass Pathways announced a further public offering of 4,000,000 ADS (1 ADS = 1 common share); the Peter Thiel backed ATAI Life Sciences filed for a NASDAQ listed IPO; and there are rumours that Silo Pharma is also about to announce an IPO.
Mind Med debuted on 27th April on NASDAQ with a more rocky start – down 29% on their first day of trading – closing at $4.02, but has already regained its first trading day losses and is currently trading at $5.62.  The interesting thing to note, however, is that Mind Med started trading on the QTOQB in March 2020 at around $0.50 – so in little over a year this stock has risen by over 1100%.
One more unfortunate downside of the Covid pandemic is the huge increase across the world in mental health issues.  In the UK it was reported by UK Mental Health Board that over 70% of adults felt their mental health had deteriorated during the pandemic and the most recent UK Government survey showed that nearly one in five adults has had some form of depression during the pandemic. With this rapidly escalating problem in mind, in January 2021, Compass Pathways announced the establishment of a Centre of Excellence with Sheppard Pratt Institute for Advanced Diagnostics and Therapeutics in Baltimore, Maryland, to accelerate research and improve patient experience in mental health care.
Ocean Wall have produced a thorough review of the industry, sector and investment opportunities.
Click here to access the report.