Welcome to April 2022's Some Thoughts. This month we discuss:
Silex Systems – a look back on some of the news from the uranium sector, our updated report, and Ocean Wall's next uranium pick.
Venezuela – update on political movements and speculation on possible changes to US sanctions.
Cybin – why we believe that this sector and, in particular, this market leader is undervalued and why this is the time to be looking again at investment in this innovative psychedelic stock.
Plexo Capital – a review of Lo Toney's visit to London and Fund II key investment highlights.
Nicky Grant (Ocean Wall's Head of Corporate Advisory) reviews her trip to Calgary and Vancouver seeing Lithium Chile and Summit Nanotech
Silex Systems – our next uranium stock is a cutting-edge enricher
The aggregated market cap of uranium equities has increased a total of 21% (~$7bn) since Russia's invasion of the Ukraine on February 24th. In addition, the uranium spot price has found a more solid base at ~$58/lb, having reached as high as $59.73/lb in March.
While the circumstances in which this trade has accelerated are unfavourable, it has put global energy security into the spotlight, signalling the need for international governments and utilities to diversify their supply chains and develop domestic production capabilities.
The geographical supply of uranium is incredibly concentrated, and utilities remain at the mercy of ongoing geopolitical risk from the world's largest uranium producers. We still wait for a decision on the potential US sanctioning of Rosatom, Russia's state-owned nuclear corporation.
Russia's dominance in uranium does not come from the raw material, but from enriched uranium (Rosatom subsidiary TENEX is responsible for ~35% of global supply). For uranium to be serviceable to nuclear reactors, separative work must be completed. We have recently updated our uranium thesis to include work on enrichment, as well as the implications of the Russian invasion of Ukraine. Report here.
Through our work on enrichment, we came across Silex Systems (ASX:SLX). SLX is an Australian-based company using third generation enrichment technology for applications primarily in uranium and silicon. The company's SILEX (Separation of Isotopes by Laser Excitation) technology allows for much higher separation efficiencies compared with second generation centrifuge enrichment – the process used by enrichers today.
SLX have a proven enrichment process, allowing them to develop not only low-enriched uranium for todays water-cooled reactors, but also high-assay low-enriched uranium (HALEU) for the next generation of reactors (SMRs). The company also have an agreement with the DOE to re-enrich up to 200,000 tonnes of depleted uranium (spent fuel) over 40 years (5m lbs a year, making them a potential top-10 uranium producer globally).
Silex recently entered a JV with the world's largest publicly traded uranium producer, Cameco Corporation. The JV was for the purchase of Silex's US-based uranium technology licensee, Global Laser Enrichment (GLE). Silex are the majority shareholders with 51%, and Cameco increased their 24% stake to 49%. SLX is well-positioned to become the 'go to' technology for the production of nuclear fuel for today's conventional nuclear power reactors and for the next generation Small Modular Reactors.
The company is essentially pre-revenue (US$3.1m 2021) and has a market cap of US$185m. However, in a market that has hurt forward earnings growth stocks, SLX has for the most part traded in line with the wider uranium space over the past 3 years – see below a price comparison between SLX and URNM (Uranium ETF):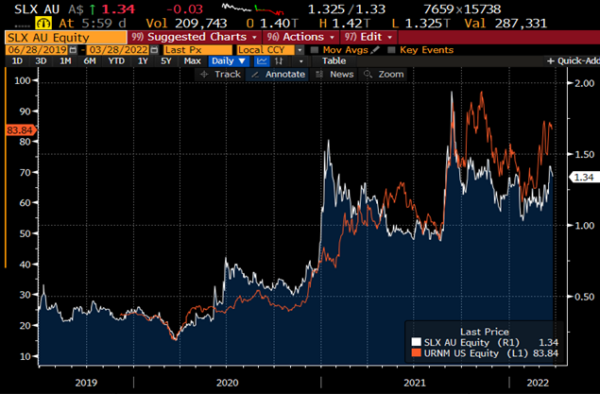 We have written a more detailed report which you can find here. Should you require more information please contact ben@oceanwall.com
Venezuela
In the weeks following the Russian invasion, the US imposed numerous sanctions on both Russian individuals and institutions.
On March 8th, the US government announced a ban on the import of Russian oil, liquefied natural gas, and coal. The price of oil subsequently hit $120/barrel.
Energy security has been a key theme over the past two months. It was exactly this that led to US officials ending up in Caracas for the first physical meeting with Maduro in over two years. Officials initially claimed the talks were motivated by concern that Russia's Latin American allies, including Venezuela, could become "security threats". However, the US government later acknowledged that one aim was to discuss energy security following the Russian invasion of Ukraine.
The US retreated shortly afterwards following major political backlash. However, the trip did result in the release of two jailed US citizens, something that should be seen as a major step forward in the relationship between the two countries.
As oil prices seem likely to continue to rise, and Venezuela continues to increase its production, part of the thesis for an economic turnaround is coming to fruition. However, more core to our thesis is the lifting of US sanctions, which have to date been ineffective. The Trump-era effort to overthrow Maduro seems to have been abandoned, with the Biden administration far more focused on achieving sustainable, democratic change in Venezuela.
We continue to monitor news flow closely, and for those still wishing to participate, the Sovereign Recovery Fund we have identified remains open.
For the full report please see here.
Cybin – Oxford Psychedelic Symposium Review / Psychedelics – market leaders undervalued / Growing pressure for re-scheduling reforms
Psychedelics – an undervalued sector
Now is the time to start looking at these companies if you have not done so already. The pandemic has accelerated the global mental health crisis and the demand for new treatments. For decades, mental health patients have had limited solutions that treat the root cause of their disorders. Innovation in anti-depressants has stagnated, and with SSRI's patent cycle expirations coming up, big pharma is starting to seek novel treatments. Bear in mind that the World Health Organisation estimates that depression currently affects 264 million people worldwide. We believe that with the increase in announced clinical trials and their positive results we will see increased M&A activity in the sector. Big Pharma, Johnson and Johnson, has already entered the sector and developed Spravato, a depression-treatment ketamine-based spray that is already legal, approved and in the market.
Unsurprisingly, the industry is almost all but solely reliant on shifts in the regulatory landscape, but this increasing crisis and related demand is putting pressure on drug regulators around the world to revaluate their restrictions and accelerate changes. There is already a marked regulatory shift for legalising these drugs for medicinal use. Some states and cities in America have legalised psilocybin for therapeutic use in a regulated setting, including the State of Oregon, Washington, Oakland, Denver, Santa Cruz, and Cambridge. Closer to home, in the House of Commons, Boris Johnson said in October 2021 that he would consider the legalisation of psilocybin for research following calls from MP Crispin Blunt. This increasing regulatory shift will open more chances for research and increase the probability of finding successful treatments more quickly.
Recent surveys in the US have indicated that 83% of psychiatrists would be willing to prescribe at least one psychedelic drug, and 70% would be willing to prescribe at least one if approved by the FDA.
Clinical trials from the leading companies make for compelling reading. The recent large Phase IIA clinical results involving 233 patients suffering from treatment-resistant depression from Compass Pathways showed that the psilocybin molecule trialled was well tolerated and demonstrated some excellent results at the 25mg dosage level. We believe the market reaction was simply a readjustment of timing expectations and a maturing of investor understanding that these companies will follow a traditional drug company pathway.
While the industry is still a long way off commercialisation, the stocks are beginning to be better understood and have excellent coverage by research analysts. We are seeing psychedelic companies addressing investor communication and moving towards educating, clear goals setting and matching achievement notices. These shifts are giving confidence to investors and increasing interest in the sector. The bigger investment banks are beginning to acknowledge their significance and are starting to include psychedelic companies in their Healthcare Conferences.
With the promise of no dependency and the attendance of a psychotherapist, concerns around scalability and commercialisation are to be expected. However, companies are showing success on rapid onset and shorter duration molecules, and therapeutic setting infrastructure is being developed globally to accommodate the administration of the drugs.
The stocks to pick out are the ones who tick the traditional biotech checklist. Look for a management and scientific team that have experience of bringing drugs to market alongside clear indications, strong IP and a good stable of molecules going into clinical trials.
An example of this in practice is NYSE listed Cybin Inc, who currently have three active drug programs targeting major depressive disorder, alcohol use disorder, anxiety disorder and neuroinflammation. The primary focus of the company has been in shortening onset and duration by drug deuteration, see the recently granted patent for their compound CYB004, which has been a major success to date and addresses investor concerns regarding commercialisation and scalability.
Cybin have a strong and experienced management team headed by CEO Doug Drysdale (formerly President/CEO of Tedor Pharma Inc, President/CEO of Pernix Therapeutics, CEO of Alvogen Pharmaceuticals and CEO of Norwich Pharmaceuticals) and Chief Scientific Officer Dr Amir Inamdar (formerly Senior Medical Director at AstraZeneca and Director of Clinical Pharmacology & Discovery Medicine).  The Cybin team have a track record of bringing multiple drugs to market and have experience in the private and public pharmaceutical industry.
Cybin also have a strong catalogue of intellectual property across new compounds, delivery, methods of use and drug discover pipeline of modified and novel tryptamines, phenethylamines and other compounds.
Cybin key financial highlights: raised C$120m to date, well-funded clinical trials, M&A and IP strategies – with strategic investors including US institutional investors and large family offices.  Cash, as of 30th September 2021, C$75m with a burn rate of C$8m per quarter.  Now covered by 8 research firms and included in the 3 key psychedelic ETFs.
One area where there are no concerns, however, is the size of the TAM. A report by Psychedelics as Medicine in 2021 claimed the potential market could exceed $2.4bn by 2026. According to a report from Data Bridge, the pharmaceutical psychedelics market is expected to grow at a CAGR of 16.3% through 2027.
Due to the potentially lengthy timeline on revenues, investors to date are mainly trading on speculation, creating volatility in the sector. As public understanding increases and investors obtain clarity on the regulatory environment, the market will establish itself, mature, and bring with it better price stability.
Reform Momentum ramps up
Since 2020, in the UK, there are several lobbying groups including the Medical Psychedelics working group and the Conservative Drug Policy Reform group, both of which are driven by Crispin Blunt MP.  These groups have recently been more vocal about their efforts to have the UK reschedule psychedelics from Schedule 1 to Schedule 2, which would allow more medical research to be done. The topic has already been raised several times in Prime Minister's Questions.
In January 2022, in order to combine efforts and push forward the momentum that has been building towards drug policy reforms globally, a new international group, the International Therapeutic Psilocybin Rescheduling Initiative was created.  This group's purpose is to promote and secure a rescheduling of psilocybin under the 1971 Convention on Psychotropic Substances. This rescheduling of psilocybin would offer a game-changing opportunity to further advance research and accelerate the approval of treatments for patients.
Oxford University Psychedelics Symposium
On Friday 11th March, Cybin's Chief Medical Officer, Dr Amir Inamdar, was welcomed as the keynote speaker at Oxford University's Psychedelic Symposium.  The Symposium was host to the academic leaders in this sector – from Oxford University, Cambridge University, Imperial College London and Kings College London – as well as industry and business representatives.  You can view the presentation here: Cybin – Psychedelics to Therapeutics
If you would like to attend a presentation or have a one on one with the management team at Cybin – contact Nicky Grant on ng@oceanwall.com.
Plexo Capital – review of meetings and presentation / fireside chat
Ocean Wall ran a highly successful roadshow for Lo Toney of Plexo Capital in mid-March with a lunch presentation and a series of one-on-one meetings.  Lo met 14 clients – a mixture of UHNWs, Family Offices, Endowments and Funds – and finished the week with one firm commitment, several follow-on meetings and data room requests already now underway.
Key highlights:
Investing as a LP into diverse-led GPs and direct investments – creates a powerful and unique network – currently have access to 1,300+ globally
Lo Toney: Track record of success with Google Ventures (GV) and Plexo Capital Fund 1 (Net IRR 24.5%)
Fund 1 investors include Google Ventures (Alphabet), Intel Capital, Ford Foundation, RBC and Cisco
Fund 1 incubated in GV and there continues to be an ongoing symbiotic relationship between Plexo and GV
Data allows leverage of GP networks, and, together with evaluation lens – creates an alpha strategy to source starts-ups for direct investment
By-product of this strategy is an increase in diversity across the start-up ecosystem
Outstanding diversity stats with 33% Female GPs, 73% Persons of Colour GPs, 17% Persons of Colour Female GPs, 53% Underrepresented minority GPs and 10% Underrepresented minority Females GPs.
Fund 2 will shortly be doing its final close. It already has commitments of $80m out of $100m – with several key investors already announced: Alphabet (was also invested in Fund 1), Hearst, Home Depot, Southern New Hampshire University Endowment
We have attached a pre-recorded Q&A with Lo – where we covered a number of questions that had been raised over the course of the meetings.  Fireside Q&As with Lo Toney – Plexo Capital
Nicky Grant's trip to Calgary and Vancouver
Lithium Chile
Arizaro, Argentina
With Phase 2 about to commence, Lithium Chile expects to be releasing ongoing positive press releases regarding its indicated resource. Salta Province, Argentina, has seen a recent explosion of exploration and production investment and interest and as a result the permit process has slowed under the sheer weight of applications. While they wait an additional few weeks for the Phase 2 permits to be issued, the team is already working on the water resource – which will be needed for production.
There is also an increased demand for rigs and drilling teams. Lithium Chile has secured its drilling rig and team and they are already on site at Arizaro.
On 1st April, a team from Lithium Chile and Chinese battery company, Chengxin (recent 5% private placement investor), will travel down to Chile and Argentina to visit key properties.
Chilean Properties
There continues to be encouraging signs from the new Government that they are keen to develop their lithium resources in a Public/Private strategy. Lithium Chile is well placed to benefit as they have close links through their Chilean team to the Ministry of Mining and the Chilean Government owned mining company, Codelco.  With their excellent properties, particularly at Coipasa, they are keen for the suspended tender bid process to be restarted as that could prove very interesting for them too.
Summit Nanotech
Ocean Wall spent time this week in Calgary meeting with Amanda Hall of Summit Nanotech and seeing their brand-new development laboratory and offices.  Summit Nanotech are the acknowledged leaders in the Direct Lithium Extraction ("DLE") race (see below for the Bloomberg analysis on DLE companies) and their pilot is currently enroute to Chile.
The pilot will run for about 6 months and during that time will be processing a number of different brines with a variety of different grades and chemistry.  Lithium Chile will be supplying a sample from its Arizaro project in Argentina as part of the trial.
Amanda was recently awarded the C$1m grand prize in the Women in Cleantech Challenge as well as being named as one of Canada's Top 25 Women of Influence.
Summit Nanotech has recently announced the closure of its $14m Series A funding – with Capricorn's Technology Impact Fund and Temasek's Xora Innovation co-leading the round.  Other investors included BHP Ventures.
They are expected to be launching their C$100m Series B round this summer.  Please contact Nicky Grant for more information.  ng@oceanwall.com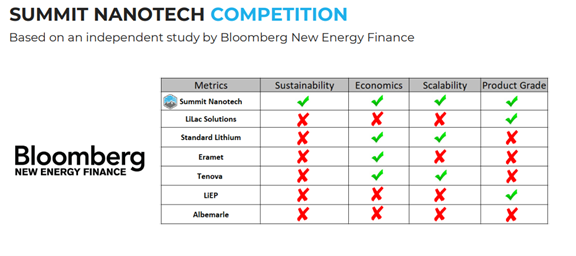 This em