I have heard the phrase The Roaring Twenties twice in the last week. Once from a large US investment bank in their 2021 forecast report and the other from Nick Jones, CEO of Soho House Group, in terms of describing the coming post-pandemic party in the years to follow.
So far at Ocean Wall we have concentrated our commodity firepower on uranium and lithium but this month we look at the inevitable broad-based rally of all commodities based on the global stimulus-induced reflation trade.
As we get closer to next week's anticipated Brexit deal we also look at the tailwinds in 2021 for a UK domestic recovery.
The EuroStoxx 50 dividend market has been range bound since the summer. Little recovery is priced in and at the long end of the curve and there is now the possibility of a big steepening.
We also take a cursory look at the animal protein industry as well as at the new limited-edition ARC Vector Electric motorbike.
Note Ocean Wall's 'Chile is the next Saudi Arabia' lithium call is next Wednesday 9th at 2.30pm (UK) if you have yet to register and we also enclose a save the date for what3words CEO call in the new year. More details at events.
The coming commodity super cycle
The economic recovery as vaccination allows the world to return to normal will see rising demand for industrial metals.
Natural resources move in long cycles from radical undervaluation to radical overvaluation. Except for gold, we are presently in a period of extremely low commodity prices. We think this is about to reverse itself.
So far Ocean Wall have specific bullish calls on lithium (from Chile) and uranium. The coming bull cycle for commodities will push prices for all assets higher.
The below chart from the commodity specialist Goehring & Rozencwajg shows the price of commodities divided by S&P since 1920. More recently in 1980 and 2010 you can see that their index was 4-5x the S&P.
It is interesting to note that in 1980 over 30% of the S&P was energy stocks whilst energy and material stocks are only 3.5% today. Obviously in 1980 we didn't have mainstream ESG considerations, electric vehicles and shale production. Nonetheless commodities have never been more undervalued than they currently are over the last 100 years.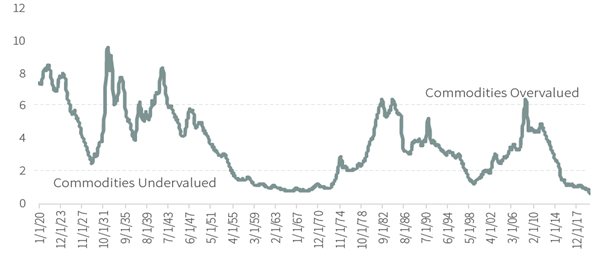 The equity growth of technology has only further hit commodity stocks. The big driver now for commodities is the pandemic-related fiscal stimulus. Heading off economic calamity, governments have stepped up spending, aimed at redistribution, environmental objectives, and versatility in supply chains. Europe's Green Deal, China's new 5-year plan, and the potential for further stimulus in the U.S., among others, should create the cyclical upswing in demand.
Discretionary fiscal support of about $12tn has eclipsed previous records. In its Q3 letter to investors, Elliott Associates warned that "real inflation may be on the horizon" whilst criticizing central bank policies.
Conventional wisdom is that the US dollar has a strong influence on commodity prices. The general explanation for this relationship is that since commodities are priced in dollar terms, then commodity prices must move lower when the dollar strengthens to reflect its increased purchasing power. At the start of the pandemic, the dollar strengthened as financial markets rushed to safety. But heavy fiscal stimulus and expansionary monetary policy could see the dollar's position erode somewhat in 2021 creating a positive feedback loop similar to what happened in the 1970s and 2000s when commodities reached historical highs.
Buy British
Whilst the UK-EU trade talks have taken longer than originally planned a 'thin' free trade deal is likely to be announced at the EU Council meeting on 10-11th December.
As a result, for the UK, there is a substantial chance of a rebound in 2021. Q4 activity remains depressed and the UK is well positioned regarding vaccine distribution. Expectations are of a large share of the population being vaccinated by end-Q2. With some sort of trade deal and tailwinds from cyclical optimism it is likely that we will continue to see GBP moving higher, especially coupled with our expected USD weakness (discussed above).
The following chart, based on Goldman's data, shows the discount at which UK stocks trade on a 24-month forward PE basis when comparing a basket of UK stocks to Stoxx Europe.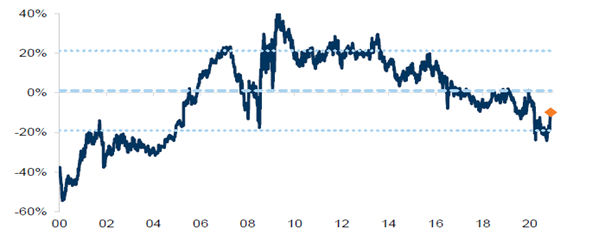 UK domestic stocks have re-rated but remain on a 10-15% PE discount to the broad European market.
From an EV/EBITDA perspective the FTSE 100 is on 7.8x current year vs 12.1x for EuroStoxx50. The index has been one of the worst-performing equity markets YTD; down 16% in GBP, 15% in USD. This has been a function of Brexit risk uncertainty but also commodity prices and value vs. growth – all things we think will change for the better.
Pull to par – Euro Stoxx 50 Dividend Futures 2022+
In March, after the rush of dividend cuts from companies desperate to preserve cash, we saw dividend futures plunge around 60% in Europe
Although there has been a rebound driven by a view that dividend pricing had become excessively bearish there are some proper opportunities further up the curve. Dividend cuts this year do not mean they will continue to be cut 3-4 years into the future. JPMorgan believe the dividend situation will normalise by 2022.
In 2019 there were 121pts of Euro Stoxx dividends. The Dec'2020 contract is trading at 83.3pts.
Analysis from 2008/9 shows that dividends have a naturally recycling and stabilising effect as time progresses from time of shock.
The Dec29 Euro Stoxx 50 contract is trading at 86.9pts. The chart below from Goldman Sachs show the Euro Stoxx 50 dividend term structure.
The consensus forecast for 2029 is 143.8 so a 65.8% upside or an annualised 7.4%.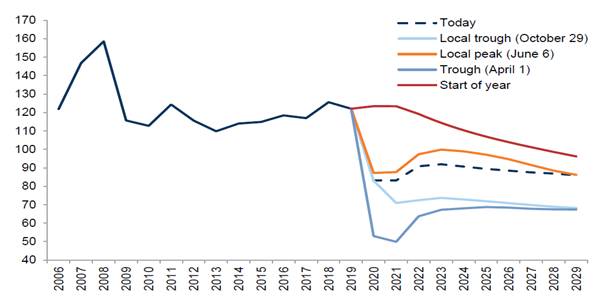 The risks are firstly, that liquidity decreases the further along the dividend curve one goes, and secondly, the perennial risk of long dated dividends, that the complexion of Euro Stoxx companies may shift from dividend payers to low yielding growth stocks.
Animal protein demand of the future
The switch to veganism and vegetarianism may be on the rise but the remaining 'meat' eaters of the world are actually increasing. With the growing population figures in the world there will be an increased demand for protein and plants worldwide – not only for human consumption but also for the farming and fishing industries too. According to the UN's Food and Agriculture Organisation, consumption of animal proteins will grow by 52% between 2007 and 2030. The spike in demand for protein and plants poses a serious risk for the world's already fragile ecosystems, requiring extra water and land and generating greenhouse gas emissions.
The focus on finding alternatives is on the increase and alongside plant-based proteins there is beginning to be an interesting development in the world of insects.
Among the most interesting of these Agtech companies is Ÿnsect – a French based company determined to improve global food security and sustainability with the first carbon negative and largest insect farm in the world. Ÿnsect has created a patented process for cultivating mealworms to produce a variety of highly digestible protein and fertilizer products. These products sustainably replace animal proteins consumed in the supply chain by fish & livestock farms, animal proteins used in pet food and fertilizers used in plant nutrition, while leading to greater yields and health benefits for the animals and plants being fed.
Ÿnsect has proved resilient throughout the Covid crisis, with minimal disruption to construction and production. With $105 million worth of contracts signed to supply customers including Torres – one of the most admired European wine brands in the world (Drinks International), Skretting – the largest global fish feed company and Compo Group, the European leader in plant nutrition for gardeners, and their recent cash raising completed – this is a company – and sector – to watch. Their world record breaking insect farm is set to open in early 2022 and already the company is looking for new sites – including in the United States.
Electric Motorbikes
In our recent Lithium research report, we touched upon the uptake in Electric Vehicles and its impact on the demand for lithium. One company that really caught our imagination and got us reaching for our Christmas wish list is the new Arc Vector Electric Motorbike.
Arc Vehicles are set to release their first prototypes in early 2021 and these extremely limited-edition motorbikes are set to become the high-end sought-after motorbike brand. Sleek, environmentally savvy and with an extraordinary design team behind them – they are reinventing what a motorcycle is. The team behind Vector have extensive car and motorcycle engineering experience – as well as EV expertise. Arc have already had substantial interest in Vector and received deposits for their first Angel Editions before the prototypes have even been finalised.
EVs are a rapidly growing market and the Vector is already in the latter stages of development. Significant investment has already been deployed and with strong credible management and a scalable business plan Arc Vehicles is perfectly placed to take advantage of this sector opportunity.
For more information and to reserve your Vector – go to www.arcvehicle.com. Jaguar LandRover are already an investor and if you are interested in getting more information on their upcoming investment round, then please email or call Ian Ross – ian@oceanwall.com or 07808771748 .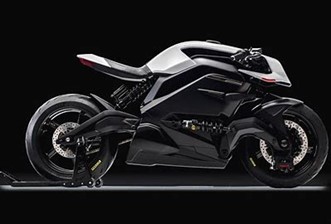 Reminder: Following on from our thesis that Chile is the next Saudi Arabia based on its extensive lithium reserves and our published The Case on Lithium; Ocean Wall are hosting the following Zoom event:
Subject: Lithium & Chile
Date: Wednesday 9th December
Time: 2.30pm (UK)
Ocean Wall is delighted to invite you to join us for a presentation from Lithium Chile (LITH – TSX-V) and the leading Lithium Environmental Extraction Developers – Summit Nanotech. Please email nicky@oceanwall.com to get Zoom login details.
Date for your diary
Subject: what3words
Date: Wednesday 20th January
Time: 11am (UK)
Ocean Wall are delighted to welcome Chris Sheldrick, Co-Founder and CEO of what3words for a presentation of their cutting-edge precise location app. Please email nicky@oceanwall.com to pre-register.