Firstly this month, we look at UK university IP companies that after years in the wilderness are beginning to perform. Historically tainted by their illiquid status, their spinout values are being crystallised now via sales and IPOs and we expect this to accelerate further.
Post a very robust earnings season, the time is now right to look for idiosyncratic stocks with more fundamental drivers. In that regard we look at the German blood plasma company Biotest that exhibits those qualities and that we expect to double revenue and triple EBIT but is currently half the multiple of its peers.
We received a lot of interest in our Psychedelics report last month and the media are now recognising the potential of psychedelic drugs in the treatment of mental health problems.
Lastly, we give a deal update on the more public deals that Ocean Wall are leading on.
Breaking the curse
At the end of April, UK-based Vaccitech, having quietly raised $110.5 million, began trading on Nasdaq. The company, which is a spinout of Oxford Science Innovation (OSI), owns the technology used to develop the AstraZeneca COVID-19 vaccine. For Vaccitech, their IPO comes hot on the heels of a $168 million Series B financing round announced only in March. Funds raised from the IPO implied a pre-money valuation of $510m or £365m. Post IPO, OSI owns 25% of Vaccitech on an undiluted basis; every $1 move in Vaccitech shares will have a circa 0.7% impact on OSI's NAV.
OSI is a private company launched in 2015 with a £600 million raise. Six years on, Vaccitech is its first portfolio company IPO.
At the same time as the Vaccitech IPO, another Oxford company – Oxford Nanopore (ONT), the developer of the hand-held Minion sequencer, issued a very short release noting it has raised £195m from new investors Temasek, Wellington, M&G and Nikon with existing shareholders making up the remaining £70m of the raising.  It stated that it remains focused on its previously announced strategic plans to target an IPO on the LSE in H2 2021. ONT currently offers the only sequencing technology of real-time analysis.
Oxford Nanopore isn't part of OSI but makes up 26% of IP Group net assets and is the largest underlying investment holding in Schroder UK Public Private (SUPP) at 13.3%.
The US has always outstripped the UK in recruiting and developing Technology Transfer Officers whose job it is to help connect the universities with investors and government support.
IP Group (IPO) is the listed play in partnering with universities to help commercialise their intellectual property and has a longstanding relationship with Oxford. Despite some successes, this model's volatility has proved less than spectacular for shareholders in recent years. After a string of major capital raises and successful company spin-offs on AIM in 2014 and 2015, IP's net asset value (NAV) is yet to recover from a peak of 137p a share set almost six years ago. As our friends at Fat Gladiator pointed out last week "…it is a company bursting with long term value as this week's sale of WaveOptics demonstrates. IP Group has a 17% stake of the $500m sale price and the acquisition by SNAP further underpins the club's thesis on the importance of virtual and augmented reality to the large social players."
Like OSI, the long-term nature of the IP Group's "cradle to maturity" stewardship approach requires huge levels of patience from investors, and this came to a head in 2019. Although Neil Woodford was the catalyst, these unquoted and illiquid companies crystallised several years of malaise. Hampered by liquidity issues in Woodford's own funds, IP warned about valuations of its holdings. Off market placings of Woodford holdings became frequent and funding availability was adversely impacted. Any residual lustre faded completely when, as his flagship fund was being wound up in September 2019, Woodford dumped his holding in IP at a big discount of 53.5p.
IP has since more than doubled and for good reason. Fuelled by more sympathetic understanding and improving fundraising conditions this kind of science-led, sustainability-focused companies that IP, and its university network incubates, are coming back into favour and have moved up investors' agenda since the pandemic hit.
Although valuing commercial IP will always prove a challenge there is a growing appreciation of the importance of intangible assets as well as the money managers who have built up depth and understanding of this field.
With the IPOs of Vaccitech and Oxford Nanopore there will be more demand for the niche areas of cutting-edge technology.
Earnings season – where to now after the best quarter for a decade?
The 1Q21 earnings season has been particularly robust, with a preponderance of companies beating expectations. In the US some 87% beat estimates making it the best quarter in a decade. Although Europe hasn't finished reporting, over 70% of companies reporting results beat EPS estimates by more than 1 standard deviation which is well above the historical average of 48%. 4Q20 results season saw a similar 'beat' performance. At some point, however, consensus estimates are bound to catch up to the actual environment and 'beats' will become rarer.
Many of the pro-cyclical sectors favourably exposed to a post-pandemic world have already rallied ahead of a full earnings recovery.
Against this backdrop of potentially peaking growth, rising volatility and normalizing earnings results, the time may be ripe for identifying stocks with idiosyncratic fundamental earnings drivers, less dependent on macroeconomic tailwinds to drive outperformance.
Biotest AG – value plus catalyst
Biotest is a German blood plasma company (BIO3 GY) that develops and supplies plasma protein products and biotherapeutic drugs. The company has a €1.2bn market cap but has virtually no research coverage. It is a hidden gem in European midcaps with the potential to more than double in value in the next 12-24 months.
Biotest has an important niche in the structurally growing market for plasma derived products (global market for IgG growing at c.9% p.a.). It operates a plasma facility in Germany and has spent over €600m since 2014 on an expansion project (Biotest Next Level – "BNL") which will more than double its plasma fractionation capacity to over 3 million litres per year. The facility has recently successfully completed an inspection by German authorities and production will ramp up later this year for sales in 2022. New product development will also contribute to significant margin expansion with the company projecting gross profit per litre of plasma increasing from €100/l to €310-410/l.
Once BNL is fully ramped up, the company expects it will generate more than €1bn of revenues and operating margins of c.25%. That's a doubling of revenues and tripling of the operating profit in the next few years.
Revenues set to double and EBIT to triple:-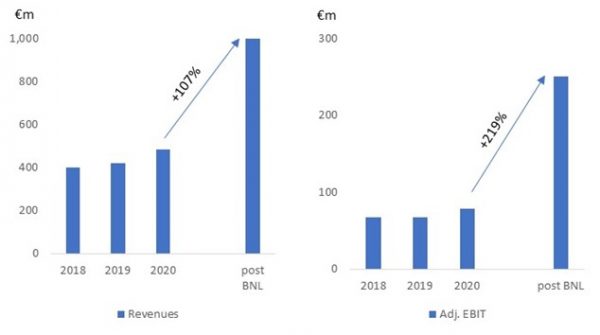 The market is currently not ascribing any value to BNL despite the project being largely derisked and production expected to start this year. The shares trade in line with its closest listed peer Grifols on EV/EBIT but at a c. 50% discount on 2025 forecasts once BNL is fully ramped up.
Once BNL is ramped up, shares could be worth well over €100. Conservatively assuming a multiple derating from 20x to 15x for lower growth and a 20% discount of the preference shares to the ordinary shares (versus no discount today), we believe the shares will be worth €72. That is over 50% IRR over the next two years.
Shares to more than double as BNL begins to ramp over the next two years:-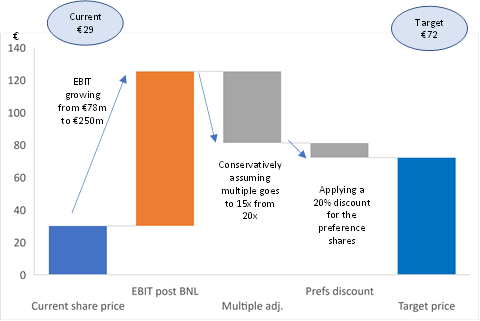 The defensive nature of blood plasma and the derisked capex cycle plus the expected growth make Biotest a very attractive asset for private equity. In March, Triton said the company was on its radar of potential acquisitions. Given the potential value from BNL, a bid would have to come at a significant premium.
With or without M&A, Biotest shares should more than double in the next couple of years once the market starts valuing the BNL project appropriately.
Psychedelics – views shifting
Following on from our Psychedelics Report last month, I would highly recommend watching BBC's The Psychedelic Drug Trial – which aired in May and is available here:  BBC – The Psychedelic Drug Trial
The outcomes are extremely compelling, and we believe this is a sector of incredible opportunity and growth.  Ocean Wall's report can be found here: Psychedelic Report.
Ocean Wall's deal updates
Lithium Chile:  Recent announcement regarding their LOI to gain up to 80% interest in a lithium property in Argentina with excellent indicative grading.  This is a very exciting opportunity to not only diversify their portfolio but also to accelerate their route to feasibility and production.  Click here for Nicky's update.
What3words:  Ocean Wall continues to bookbuild for the Series D and are delighted with the number of clients who have wanted one on one meetings with Chris Sheldrick and given strong indicative interest. The Series raise is due to close by mid-June. Click here to link to our One Pager on the company.
SPAC PIPE:  A high-profile SPAC we have been working with has identified two potential targets in the fintech sector and is looking for PIPE funding of circa $100m. The management team are one of the strongest around and the targets both demonstrate very strong core businesses with the potential for huge growth.
Energy Opportunities:  Ocean Wall are working privately on a Series B for a cutting-edge West Coast additive manufacturing company that has developed the world's first Solid State EV battery 3D printer. We are also helping on a $110m raise for a company that designs and manufactures small modular nuclear reactors.
Ian, Nicky, Clarissa and myself are always happy to discuss deals we are working on.
And Finally
If you need an incentive to shift a few 'lockdown' pounds then we have just the opportunity! The Angus Lawson Memorial Trust have two allocated spaces to run the 'actual' London Marathon on Sunday 3rd October 2021.  You'll be running for the charity– ALMT – in an iconic race!  Please email Silvie at silvie.wallington@almt.org for more details.