Welcome to November's Some Thoughts. This month we discuss:
Hedge Fund sentiment is at its highest level, going into year-end, for over a decade.
Pitchbook's quarterly survey of Europe's VC space makes the UK worth another look.
As lithium carbonate prices hit record highs, we outline recent M&A in the lithium sector along with updates on EV projected sales.
We examine Chile's push to regain its place at the top of the lithium producer's list.
HarbourVest's September NAV beats but it still has one of the widest discounts in the London listed space.
We profile Paris based Umiami that has created 'meat like' fibres which we believe is the future of protein texturization.
We look at the Colder War becoming manifest as the Putin's energy policy sees Russia exert its muscular influence over Europe.
Hedge Fund sentiment remains near its highs
The MS Q3 Investor Survey published at the end of October showed that sentiment towards HFs remains near its highs and was the highest sentiment level heading into year-end seen over the past decade. With regards to strategies, interest levels for Global Discretionary Macro and Credit Strategies declined for another quarter. Interest for Equity L/S funds was stable QoQ, while interest for Event Driven and Multi-Strat reached recent highs. 70% of investors indicated they have an allocation target for private investments (across their entire portfolio, not just HFs) with an average target allocation of 20% of their entire portfolio. Digging in, almost 40% of investors are currently at their target allocation for private investments, though just under 30% of investors are below where they would like to be. For those investors that are currently below their target allocation, the average target %age for private investments is also c.20% of their overall portfolio and they are about 10% below that target today. Private Banks, Consultants, and Outsourced CIOs are the most common investor types that are below their target allocation, while Pensions, Family Offices, and FoFs have the highest % of investors that are at their target allocation.
As it relates to returning to in-person work, investors are taking a variety of approaches with 1/3 of investors currently using a hybrid model (i.e., some days in the office, some days at home). Investors are beginning to travel more vs. the past quarter with 55% of investors planning to conduct travel in 4Q21 / 1Q22, which is up from 46% from the 2Q21 survey.

Pitchbook's summary of the European VC market
In Pitchbook's 3Q21 synopsis of the European VC market, several things are evident:
While US investors were involved in c. 70% of deal value though only participate in 18% of deals. This number is rising.
Software deals are taking share in terms of deal volume and value from an already high base of over 35%.
Europe is beginning to compete with the US for big-ticket Electrification & EV raises.
Unicorns in Europe now stand at over 60 following a strong run in 2021; the UK still dominates here.
Deal sizes and exits have increased dramatically in 2021 versus both 2020 and the 10-year average
VC deal counts and valuations have had a record 2021 across the world. However, Europe is particularly noteworthy given the region has now seen the fastest 5- and 10-year CAGR of any major region in terms of deal value growth, unicorn creation and value per deal statistics.
MS, who did a great synopsis on this data show below the VC raise per deal has been increasing to make UK and US deal sizes are broadly comparable. This is a further indication of the growing appeal for UK (and European) VC targets as the market becomes increasingly competitive for early-stage funding.
Raise per deal ($1m) US vs UK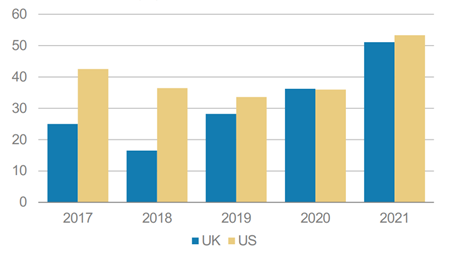 Lithium: M&A, consolidation, and the entrance of key strategic new players to the space
2021 has seen unprecedented levels of corporate changes in the lithium sector. Property Acquisitions, IPOs of new lithium exploration companies, consolidations and new players joining the scramble for lithium assets. This is, without question, the hottest sector in the metals and mining space. Highlights so far:
April: lithium miners Galaxy Resources and Orocobre announced a US$3.1bn merger
May: Posco's US$240m investment in a 30% stake of First Quantum Minerals (nickel mine) was another step into the battery material sector
July: Bradda Head – junior lithium exploration company with a property in Nevada, USA, joined London's AIM and completed a £6.2m raise.
August: Bacanora Lithium agreed to cash offer of £284.8m from China's Ganfeng Lithium
September: Sibanya Stillwater buy half of Pioneer's lithium project in US$490m deal
October: Ganfeng's US$353m bid for Millennial Lithium was 'outbid' with a US$377m offer by Chinese battery cell manufacturer, CATL.
October: Bill Gates's DLE (direct lithium extraction) company – Lilac Solutions – announces the closing of its US$150m Series B raise – attracting the likes of BMW i Ventures, Presidio Ventures (Sumitomo Corp) and Earthshot Ventures.
October: Zijin Mining – up until now a Chinese gold mining company – announced the US$768m cash acquisition of Neo Lithium, pushing out CATL who had been steadily building a position in the company and was the 3rd biggest shareholder.
Ongoing: Reuters commentary on the 'white gold rush' for EV metals in Salta Province, Argentina. Salta Province officials have signed an agreement to create rules to "strengthen infrastructure, legal security and fiscal stability' to make themselves more attractive to outside investment.
Ocean Wall had the opportunity to meet in London last month with Joe Lowry – of The Global Lithium Podcast – who has spent a lifetime in this sector and now is adviser to key lithium companies in China, US, and South America. He indicated the sector has no signs of slowing down and predicted more M&A activity to come.
EV Estimates being revised again – we're all going green at the same time!
Global sales of electric vehicles have gained considerable momentum in 2021. There is a long way to go – there are more than 1 billion cars on the road and less than 10 million of them are EVs. In 2021 – through to end of July, China's electric car sales have more than tripled, North America more than doubled and UK/Europe is somewhere in the middle.
According to BloombergNEF, within 4 years a quarter of all cars bought in China and nearly half of all cars in Germany will be electric. As a result of the current boom in customer interest, Global EV sales have just been revised upwards – forecasting 10.7m by 2025 and 28.2m by 2030.
Automobile companies are committing to the conversion; Ford will not be selling any further diesel/petrol motor vehicles into Europe/UK after 2030 and GM is investing $27bn over the next 5 years and will not be selling any combustion engine cars by 2035. Across all car manufacturers there are currently 330 pure electric or hybrid models on sale today, compared to just 86 five years ago. This is forecast to balloon to 500 models by 2025.
Countries are also driving the momentum; UK has announced plans to end the sale of petrol and diesel cars altogether by 2035, with Norway – who already sell more EVs that petrol/diesel cars – have set a phase out date of 2025. The EU is now also proposing its own 2035 ban.
EV infrastructure is also gaining particular focus; on 18th October, Pod Point – the UK's largest provider of EV charging points – announced its intention to float on the London Stock Exchange with an initial £120m raise.
Chile fights back to regain its position as No 1 lithium producer in the world
The Chilean Government last week announced an initiative to encourage and actively promote new domestic and foreign investment to explore and develop lithium properties in Chile. Until 2012, Chile was the world's leading lithium producer, was then overtaken by Australia and – on current projections – may even be pushed into 3rd place by China by 2030. Clearly an attempt to put themselves back at the top of the lithium producing countries – they will be awarding special operating contracts – covering exploration, studies, and development to production.
This tender process maintains lithium's status as a strategic material but seeks to loosen the strings of bureaucracy by issuing special lithium operation contracts (CEOLs) by quotas. The total size will be 400,000 tonnes – broken into 5 quotas – each of 80,000 tonnes. The granting of the CEOL is only a first step since companies will have to look for the place to develop their projects. They will also have to define the technologies they will use to comply with all the regulatory and environmental requirements -as well as complying with any indigenous community regulations.
For companies who already own lithium properties in Chile – this will cut application times and make it significantly easier to develop their properties. Interest in potential exploration properties has already picked up significantly and prices for these are expected to increase significantly.
As part of this initiative, Chile has also indicated that they will be supporting and investing in new lithium extraction technologies.
HarbourVest Global PE – 22% discount to NAV
Last month we discussed HarbourVest Global PE (HVPE). HVPE is a £2bn listed global private markets asset manager with more than 35 years of experience. It invests in private companies and portfolios of private companies through funds managed by HarbourVest Partners.
Last Thursday HVPE reported its results for the 6 months to July 2021. The audited July NAV of $44.11 per share compares to the July estimate of $40.02 and September estimate of $43.78 per share.
HVPE recorded NAV growth of 22.6% over the 6 months driven by valuation increases and 319 known M&A transactions / IPOs which is more than 2.5x the 119 seen in the 6 months to July 2020. IPOs included Roblox, Coinbase, Allfunds and UiPath. Over the 6 months, HVPE received nearly $300m of distributions.
HVPE trades on a discount of 22%, this is far too wide for a portfolio the quality of HVPE. In the Chairman's statement the discount was mentioned though buyback activity seems unlikely currently. It does seem that were the wide discount to remain then HVPE could well be minded to take action.
HVPE committed a total of $100m in the month to 5 HarbourVest managed funds including an additional $50m to an Asia focused multi-strategy fund of funds. The $55m drawn on HVPE's credit facility was repaid in full. HVPE has cash of $145.9m and available credit of $600m.
22% is too wide for a listed PE stock of HVPE's quality.  By comparison, the discount is between 7-10% in the Secondary PE market where transactions are currently clearing.
Clearly such a comparison highlights the value on offer with HVPE. No wonder we have seen buybacks become active in the space. This trend should continue whilst genuine value remains.
Umiami
The plant-based meat replacement market is rapidly developing with some top-notch products and innovative marketing strategies aimed at convincing even the most ardent meat-eater to give them a go. Nuggets, lardons, bacon, meatballs, and mince – all have credible and tasty replacements.
The one thing that seems to be evading this market, however, is whole cuts – a whole chicken breast, a large piece of fish or a steak. So far, the technologies and methods to make the smaller counterparts just are not scalable … until now.
After an intensive year in the laboratory, Paris based start-up Umiami have created a new technology which, for the first time has unlocked the future of protein texturization, allowing the creation of 'meat like' fibres.  Without the use of texturing agents or methylcellulose and using a very short and nutritional ingredient list (pea flour, water, vegetable oil and minerals) they have been able to produce tender, juicy and well flavoured whole cuts – up to 3 inches thick. "We want to hear our products sizzle on the stove, and we want to see it brown whilst cooking. We don't want to change consumer habits – we want to make it easy to increase the share of plants on our plates" explained Tristan Maurel, Founder and CEO.
Having been recently revealed, this game changing technology is receiving accolades, and investors are keen to be part of their journey. They have recently been selected as a semi-finalist in the globally recognised XPRIZE Feed the Next Billion $15m competition and they won Quorn's innovation challenge award.
They have just completed a funding round of US$2.73m in July. In addition, the Founders received Euro 10,000 each from ESSEC Business School for being the most promising start-up founded by former students and a French Government investment grant of Euro 350,000 to progress their R&D.
Umiami are aiming to work with food producing partners – making their whole cuts available wrapped in other companies' own labelling. Aiming to come to market in 2022 – this will demand a rapid upscaling of production facilities and so we would expect to see another financing round at the beginning of 2022, if not before. Umiami Website
The Putinization of Energy
Russia supplies c.50% of the EU's natural gas imports. Most of the rest comes from Norway and Algeria.
On 22nd October, Moldova declared a one-month state of emergency as it attempted to secure gas supplies amid a crisis over rising prices. Gazprom, the Russian state-owned energy company, said during negotiations with Moldova that the country could get a better deal on gas if it gave up some pro-EU policies. The Moldovan crisis has been part of a wider European gas crunch that has led critics of Gazprom to suggest it is trying to extract political concessions and punish countries and governments that it disagrees with. The EU's foreign policy chief described Gazprom's approach to its negotiations with Moldova on Thursday as 'weaponisation of the gas supply.'
I enclose a link to a rare interview with Fletcher Newton, Head of Strategic Affairs at Uranium One  by Marin Katusa who wrote the book 'The Colder War' back in 2015. Uranium One is a wholly owned subsidiary of the Russian state-owned nuclear corporation Rosatom. This very unemotional interview that was recorded in March gives a great perspective on how the US and Europe have neglected energy and specifically uranium to Russia's advantage.
Putin, Katusa argues, has been dreadfully mischaracterized by politicians. As, a scholar of the reign of Peter the Great, Putin has used Russia's greatest asset, its wealth of natural resources, to reconstruct the economy. Katusa posits that Putin's superpower is built on a foundation of oil, gas, and uranium and these are his assets as weapons in the Colder War. For the most part his foreign policy has not been about guns, tanks, and missiles. He has forged trade agreements with other countries, not invaded them. He has embraced such diverse international pariahs as theocratic Iran, Assad's Syria, and socialist Venezuela. He has cut deals on all sides, everywhere from China to Israel, from Algeria to Brazil. And it is always about energy.
Five years on from when Katusa wrote The Colder War, Putin is turning his country's newfound clout against a Western alliance that is totally unprepared for the geopolitics of energy.
Forthcoming Event – Psychedelics Presentation – Cybin Inc
Since writing our report The History and Future of Psychedelics in Medicine in May this year we have become increasingly more involved in this nascent investment sector. Next week we jointly host, with Fat Gladiator Investment Club, a Psychedelics Presentation on Friday 12th November at 3pm UK Time featuring Cybin Inc. (CYIN), one of the world's leading psychedelic therapeutics companies. CYIN is C$380m NYSE-listed company with an extremely strong patent and R&D department. Doug Drysdale, CEO, will talk about the history and background of psychedelic drugs, mental health crisis and the urgent need for new treatments and why Cybin is leading the pack in terms of innovation and drug delivery. Sa'ad Shah of Noetic Fund – the psychedelics VC – will also join the panel to talk about his view on the sector and their thesis behind the fund. Presentation followed by Q&A.
Date:     Friday 12th November
Time:     3pm
Please contact Nicky at ng@oceanwall.com if you would like access to the event.