Welcome to September's Some Thoughts. This month we discuss:
How a dovish Fed Chair cheered the markets at Jackson Hole.
August finished well but hedge funds have been dialling back their leverage. Only Event Driven remains stand out.
The Japanese hedge fund industry is surprisingly small given the size of its economy. Looking through the lens of one of its most successful fund managers we see macro events and corporate change are finally conspiring to present an alpha opportunity for investors.
Grandiosely titled a 'dynastic wealth creation event' we posit that uranium now has all the ingredients to be what we hoped it would – one of the best trades of the 2020s.
We profile Origin Sciences, a Cambridge diagnostic company leading the way to a more efficient, cheaper, and more accurate screening for colorectal cancers.
Currently, the S&P 500 trades on a forward P/E multiple of 20.5x vs FTSE100 on 12.6x. whilst the bear argument and structural issues do exist for many UK companies – there are many 'hidden gems', or 'gem components' of those larger UK companies, that should be worth on par – and in some cases, more – than their US or global counterparts. Further to our introduction on UK value last month we look at five UK Sum of the Parts trades.
We update on what3words which is seeing tremendous subscriber numbers and a huge jump in partnerships and users.
As lithium prices have almost tripled this year we have Steve Cochrane, CEO Lithium Chile in London this month and available for meetings.
Lastly it has been a busy summer for Ocean Wall, and we update on deals closed.
No tantrums
The big worry all year has been that the Fed will turn off the monetary stimulus taps. As most sensible folk know, the demerits of aggressive interest rate cuts and supersized monetary stimulus are exacerbating economic inequalities. Nonetheless, if the Fed were to pull back on the monetary support it has provided since the pandemic struck last year, that would upset the bond market which in turn would impact on other asset values. The memory of the "taper tantrum" shock when Ben Bernanke signalled an unexpected withdrawal of support in 2013 is still fresh in the market's mind. The sense of anticipation for Jerome Powell's Jackson Hole speech last week was intense coupled with the fact holidays meant trading volumes are seasonally low. The fact he gave his Jackson Hole speech remotely meant there wasn't going to be a radical shift in policy. He talked of an economy that is healing and gave a strong hint that the Fed could start retracting its stimulus this year. But he also spoke diplomatically of the dangers of acting too soon. Responding quickly "may do more harm than good", he said. "The ill-timed policy move unnecessarily slows hiring and other economic activity and pushes inflation lower than desired. Today, with substantial slack remaining in the labour market and the pandemic continuing, such a mistake could be particularly harmful."
There was a good quote in the FT from Salman Ahmed, global head of macro and strategic asset allocation at Fidelity International "At one point earlier this year, [bonds were falling and] it was all 'inflation is coming, and it will destroy everything'. Two weeks later, everyone was talking about deflation. There's no anchor narrative yet."  The basic conclusion is that the Fed knows nothing more than the rest of us. In the absence of any information leadership, they won't taper in the near term and so on Friday the S&P 500 and the Nasdaq hit a new record high.
Less lever, less performance  
All this comes at a time when data is showing that hedge funds are dialling back their use of leverage for the first time since March last year. Goldman Sachs last week showed that the investment bank's hedge fund clients had cut both net and gross leverage in recent weeks. Morgan Stanley has also reported long-short equity hedge funds that trade through it are reducing their leverage, while bankers at other large New York-based prime brokers said a similar trend was under way.
August saw the global average hedge fund +0.47% vs S&P +1.82% for the month. For the year the average global hedge fund is +7.35% vs MSCI AC World at 14.75%. The average European fund is +6.25% vs STOXX 600 at 20.67%. Within that, Event Driven still leads the way with +12.75%. Interesting to note that August has seen more hedge fund selling of EU cyclical-related sectors. EU Cyclicals have been net sold in 8 of the past 9 weeks driving net exposure below long- and short-term averages as shown in MS's chart below.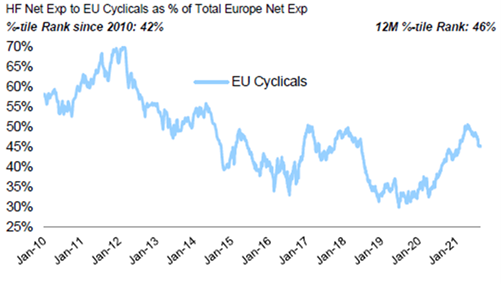 Time for Mrs Watanabe to be more bold
The Japan market has often been considered a hard investment landscape to navigate successfully, investors have been put off by periods of long-standing economic stagnation and a combination of high inflation and sluggish growth. Despite being the home to some of the most well-known companies, and not just in the electronic space, the returns have been poor since the extraordinary boom, and subsequent bust, of the 1980s. Since then, Japan has on numerous occasions shown signs of the possibility of new beginnings, but it was in 2020 where the market really began to show signs of new life.
Although there was pause for concern when highly regarded elected Prime Minister Shinzo Abe stepped down last year due to poor health, his successor Yoshihide Suga has continued to back the transformative reforms put in place by his predecessor's policies. Widely referred to as 'Abenomics', Abe's 'three-arrow' approach of monetary easing, fiscal stimulus and structural reform have bolstered the Japanese economy and the market. Suga's policies are pro-deregulation and pro-markets, and is keen on industry consolidation and reform, which should in time improve the profitability of Japanese companies and attract new investors. Foreign active investors have long complained about Japanese companies' cash-hoarding and poor payouts. The upside to the stock market of improved governance will be large. Japanese retail investors, colloquially known as Mrs Watanabe, own over 15% of all domestic shares and for the last couple of years are getting more active.
External elements from its two largest trade partners China and the US are also poised to benefit Japanese businesses. China was the only major economy that grew in 2020 and with economic growth at 12.7% for the first part of 2021. Resilience in production and consumption in China could benefit the earnings of the many Japanese businesses that sell into that market. Across the globe, US President Joe Biden's environmental ambitions and surrounding policies should also benefit Japanese companies which have an edge in energy-saving manufacturing. Japanese automakers excel at manufacturing fuel-efficient vehicles, and Japanese steel companies are known for producing lighter and more environmentally friendly materials.
Ocean Wall are watching veteran Japan investor James Salter who with 30 years' experience investing in Japanese markets understands the opportunities unfolding and is poised with his newly launched Japan Prodigy fund to realise those returns. James sees an extraordinary multi-year opportunity in Japan, catalysed by the Corporate Governance Revolution, and is confident that he and his co-manager David Mitchinson's approach of investing in both growth and value names the fund can uncover value in three core strategies – overlooked assets, mispriced cashflows and under earners. To discuss this fund further please contact Clarissa Watkins – clarissa@oceanwall.com
Uranium – a dynastic wealth creation event
Uranium is +12% in the last two weeks following the launch of the world's largest physical uranium investment fund. The Sprott Physical Uranium Trust (SPUT) launched with $300m on August 17th. It has bought uranium on every trading day since and raised an additional $70m. Last Friday alone it sequestered 500,000 pounds – fuel that would power four large reactors for a year.
Uranium is now at a 1yr high of $34 lb and closing on its 5yr high. It will be a 4 bagger if it gets to the $137 lb it reached in 2007. The trigger was the flooding of Cameco's Cigar Lake in October 2006 at a time when there was a 70m lb surplus. This time there is a 55m lb deficit.  Mined uranium supply is 125m lbs this year and demand is 180m lbs.
SPUT could single-handedly remove all supply thereby preventing it from reaching the hands of nuclear utilities. SPUT isn't on its own sequestering as Ocean Wall's favourite Yellow Cake announced last week it had purchased 2m lbs from Kazatomprom. Uranium Royalty Corp also have just announced their intention to buy. In addition, producers Kazatomprom and Cameco have recently told the market they will be sizeable buyers of uranium to make up for lost production due to Covid shutting their mines.
There is still $220m of buying to come from SPUT, equivalent of 6.5m lbs or 3x what we have already seen. As nuclear utility fuel buyers enter their seasonal buying period, they are likely to find the cupboards are bare.
More on uranium supply July Some Thoughts and some good slides in the Yellow Cake Investor Presentation August 2021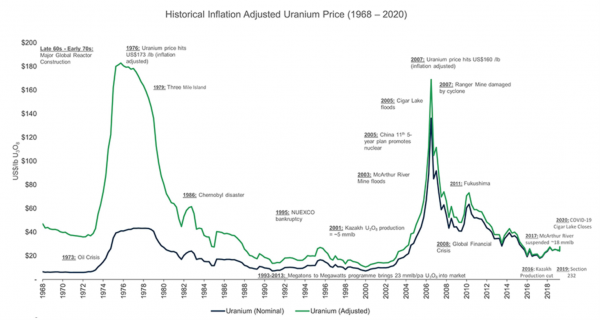 Origin Sciences – Cambridge Diagnostic company leading the way to a more efficient, cheaper, and more accurate screening for colorectal cancers
In an average year in the UK, GPs receive 300,000,000 patient visits into their surgeries. Approximately 25% of these patient visits will involve stomach complaints. After examination, 2,000,000 will be sent for a colonoscopy. Each colonoscopy will cost between £700 – £2,500. Following the colonoscopy, 42,000 patients will be diagnosed with cancer. The screening process is poor and ineffective; it is too long, produces too many false positives, sends more than a million people to an unnecessary and invasive colonoscopy, and is extremely costly. The pandemic has added pressure to the problem; with a current backlog of over 500,000 patients waiting for a colonoscopy. With the system running below capacity, this number is growing daily.
There is an urgent need for a new type of less invasive, quicker, and easier, early detection and more accurate test to be brought to market. The global need for CRC tests is in hundreds of millions per year.
Origin Sciences was founded over 10 years ago, with a strong, experienced management and scientific team, with this objective in mind and it has been fine tuning what to test and how to test it over that period. With the explosive development of biotechnology over the last couple of years – the final piece of their puzzle has fallen into place to be able to produce a test which meets this objective.
Trials: 600-person, multi-site clinical trial started in Nov 2020.  Over 420 samples collected to date – run rate of 100 samples/month.  Initial indications are extremely positive (Trials show a 100% Accuracy – latest trials: 150 patients to date – currently showing 100% sensitivity and 100% specificity) and publication of results will be carefully released with the first major announcements coming in the next couple of months.
The company has been privately funded up until now and Ocean Wall has now been approached to help them with their first raise of £20m.  For further information or a copy of the Ocean Wall One Pager – please contact Nicky Grant – ng@oceanwall.com
Hidden in plain sight – our five UK hidden gems
The UK has also had to contend with the pressures of Brexit and has seen a sluggish recovery post-Covid – mainly due to its high exposure to physical business models.
Currently, the S&P 500 trades on a forward P/E multiple of 20.5x vs FTSE100 on 12.6x. whilst the bear argument and structural issues do exist for many UK companies – there are many 'hidden gems', or 'gem components' of those larger UK companies, that should be worth on par – and in some cases, more – than their US or global counterparts. Often these valuable parts can be lost or overlooked when valued together with other parts of a business at a conglomerate multiple.
With some hedge funds and investors (Elliott's stake in GSK, Altice's stake in BT and Cevian's interest in Aviva) moving towards the UK market, we believe that now is a good time to look again at these Sum of the Parts opportunities.
Click here to read the full report.
what3words update
The last few months have seen a huge jump in partnerships and users. Recent partnership announcements include Airbnb, Mapbox car navigation, Los Angeles Fire Department (adoption after a 6-month trial), Bikmo – bike insurer, Versaterm Inc – Canadian and US first responder team software and Data 8 Ltd – ecommerce services business, and you can now use what3words addresses with Ticketmaster, Openreach, Thames Water, Domino's Pizza, Pindrop, Dropless, MiPermit … and the list goes on.
User numbers are seeing substantial growth and at the beginning of August their Monthly Active User mark was 3x where they were a year before that.
what3words has seen tremendous subscriber number pick-ups in the US too and are getting good traction through its work with the emergency services there: –
ABC News – Los Angeles – what3words
Proudly – and as tweeted by Joe McReynolds a US/China military expert – what3words also been an important factor in the successful location of Afghans in the evacuation of Kabul:-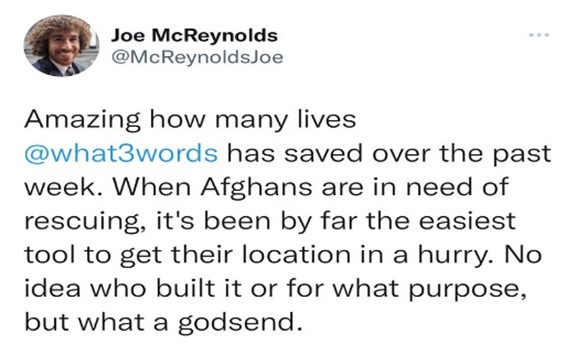 Lithium – Domestic Chinese lithium carbonate prices hit an all-time high
High demand for batteries has continued to drive domestic lithium carbonate prices – hitting an all-time high of Yuan 131,000/mt on 27th August – an astonishing increase of around 50% in a month. Market reports showed a sustained increase in offers for domestic lithium carbonate cargoes with a September delivery – on both stockpiling demand from makers and traders.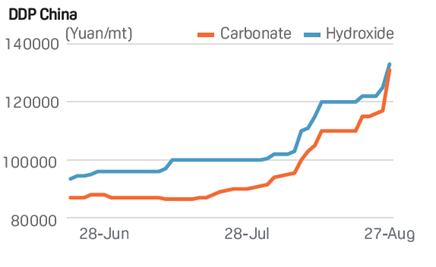 Lithium Chile – CEO making rare visit to London this month
Lithium Chile is comfortably ahead on its drilling programme for its Arizaro Property in Argentina. Steve Cochrane, CEO, is planning a visit to London to give an update on the company and their drilling progress over the week of 27th September. Anyone who is interested in attending a breakfast presentation or having a one-on-one meeting – please contact Nicky – ng@oceanwall.com
And finally,
The summer has been particularly busy for Ocean Wall. In July we closed an overspill SPV structure alongside a VC to complete a successful Series A for a UK technology company. In August we raised funds from continental Europe for an US Event Driven fund. Also, we have been appointed to undertake business development services for a prestigious UK Active Value fund.